Here's what you can buy in one desirable Nottingham suburb for £375,000
26th April 2023
Despite its reputation as one of Nottingham's most sought-after suburbs, property experts say that buyers are still finding some surprising bargains in West Bridgford.
Many potential home buyers may believe that house prices in West Bridgford are out of their reach.
But, thanks partly to stamp duty exemptions and an increasing choice of both traditional homes and new-builds, local property experts have identified plenty of reasonably priced options that even some first-time buyers are taking advantage of.
While first-time buyers benefit exclusively from a stamp duty exemption on properties valued at up to £425,000, buyers further up the ladder still pay nothing in stamp duty up to £250,000 and only 5% beyond that point and up to £925,000.
This, combined with the ever-increasing cost of renting, buyers are recognising the economic benefit of owning their own homes, and affluent locations like West Bridgford usually make the top of their lists.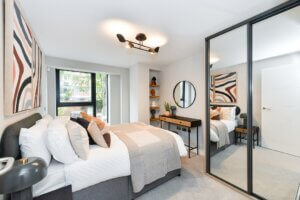 So, what can you buy in this leafy, riverside suburb, famous for good schools, bars, shops and restaurants, for around £375,000?
Joe Hargreaves, new homes specialist at sales, lettings and property management firm FHP Living, said there was a surprising number of homes currently available in that price bracket.
"We know that when you're looking to move house or even buy your first property, location is usually top of your list of priorities," said Joe.
"But many home buyers we speak to come into our offices with the mistaken belief that areas like West Bridgford will simply cost more than they can afford.
"They are then often amazed at the choice available, which is particularly spurred by the number of very high quality new-build houses and apartments becoming available.
"And many of these developments have taken full advantage of the scenic views over the River Trent – something that lots of buyers see as a huge and unexpected bonus."
For example, Joe said that a traditional terrace house in Exchange Road, offered through FHP Living at a guide price of between £375,000 and £395,000, would be a typical target.
The end terrace with three bedrooms, including one in the attic, as well as a shared driveway and permit parking, enjoys an excellent location close to the shops in West Bridgford.
Another three-bed semi-detached home with a rear garden and forecourt parking in Gordon Road, which is perhaps in need of some modernisation, is available through Rex Gooding at a guide price of £365,000.
While a modernisation project may appeal to some buyers who are looking to climb faster up the property ladder, Joe said that heads were more often turned by the simplicity of a newly built home.
"Some buyers don't want the hassle of a garden," said Joe. "And a modern apartment is more likely to provide increased energy efficiency compared with an older property. Buyers are also opting for open-plan modern homes that offer dedicated parking spaces and amenities like electric charging points for their vehicles."
Bovis is offering a new build, three-bed semi-detached home in nearby Edwalton for just under £375,000.
More central waterside locations such as our own development Riverside, a two-block development of 34 apartments in Wilford Lane, are also proving both popular and affordable.
Apartment 6 at Riverside, for example, is a first-floor, three-bed apartment priced at just £370,000 via FHP Living's West Bridgford office.
Recently completed, the development, which is now almost full, fronts the River Trent and benefits from a large balcony, open-plan living space, parking and electric charging points. The tram stop for Nottingham is 10 minutes' walk away, similar to the distance to the new Lidl supermarket, Starbucks, Pure Gym and Roko health club.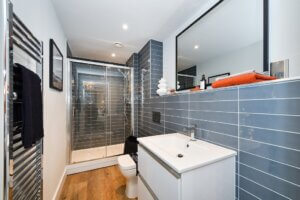 Joe said: "As with other new builds, Peter James Homes' Riverside apartments will benefit from much lower energy bills than older properties, which is clearly an important consideration these days."
Links: 
Exchange Road –https://www.rightmove.co.uk/properties/133834349#/?channel=RES_BUY
Gordon Road – https://www.rightmove.co.uk/properties/132470171#/?channel=RES_BUY
Bovis home in Edwalton – https://www.rightmove.co.uk/properties/131964302#/?channel=RES_NEW
Riverside – https://www.rightmove.co.uk/properties/130890584#/?channel=RES_NEW
Back to news >