More than 400 gifts collected to make a child's Christmas
16th December 2022
We've once again been astounded by the response to our plea to help brighten Christmas for disadvantaged youngsters.
Along with our infrastructure partner J McCann & Co Ltd, we acted as a drop-off point for this year's Mission Christmas, in association with local radio station Gem 106 and the Cash for Kids charity.
We asked staff, suppliers and business associates to donate new, unwrapped gifts for all ages, to be placed in the donation box, in the foyer of our headquarters in Chilwell, Nottingham.
To top last year's involvement, 432 gifts were generously donated, to help put a smile on the faces of children in need this festive season, by making sure they have at least one present to wake up to on Christmas Day.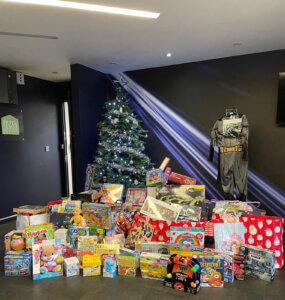 Staff also raised £660 for the charity, including making financial donations while taking part in Christmas Jumper Day, and both firms jointly donated £1,000 towards the cause. More money is still coming in.
MaryClaire Morgan, sales and customer care manager at Peter James Homes, said: "Once again, we've been absolutely overwhelmed by the generosity of everyone who has so kindly donated to this appeal.
"The amount of gifts handed in is even more touching, given the current challenging economic climate.
"We hope it goes some way to making Christmas a little more joyful for the needy youngsters in our region."
Companies that contributed to the haul of gifts included Fabrikat, Gateleys, Poppy PR, M360, Bagshaws Residential, R&J Builders Hardware and Nuneaton Signs.
Louise Hampton, charity fundraising executive (Midlands) for Cash for Kids, said: "We are so grateful for the continued support of the wonderful team at Peter James Homes!
"We would like to say a huge thank you to their amazing efforts in helping us make sure every child wakes up to a Christmas present in the East Midlands!
"We wouldn't be able to reach as many children as we do without them. Many families are having to choose between heating or eating, and so Christmas is not even on their radar.
"We hear stories in our Mission Christmas HQ daily about the difference these donations are going to make to children and the relief it brings to the families knowing that Christmas is going to be saved."
Last year, Mission Christmas fundraised £125,925 and supported 5,037 children locally in the East Midlands. The Midlands' overall totals were £417,875 raised and an outstanding 16,715 children woke up to gifts on Christmas Day.
Mission Christmas is not the only community work that we've been involved in this year.
In May, we paid for 40 disadvantaged children and their carers to enjoy a special big top performance organised by national charity Circus Starr, and our commercial manager, John Knight is scaling Mount Everest base camp in March next year in memory of his sister, and to raise funds for Alzheimer's Society.
Back to news >