Peter James Homes lights the way to the perfect Derbyshire Christmas
10th November 2022
We have drafted in a popular Derbyshire interiors expert to show people how to achieve 'Instagrammable' Christmas décor by using local suppliers.
Dawn Walters, of Breaston, has been asked to decorate one of the developer's Derbyshire show homes, at its Woodland Heights scheme, in Bullbridge, near Ambergate, ready for the festive season.
As an Instagram influencer with 58,000 followers, Dawn has built up quite a fan base for her interior design work, so was deemed the perfect choice to add some Christmas sparkle to the four-bedroom 'Birchfield' show home.
The only brief Dawn received was that she should dress the home in a beautiful and tasteful way using  decorations sourced locally, where possible, from retailers in Derbyshire and Nottinghamshire.
Potential home buyers and interiors enthusiasts are being welcomed to a special 'Christmas' unveiling event between 4pm-7pm on Thursday, where they will be able to enjoy mince pies and prosecco while viewing Dawn's festive makeover.
They will also receive a guide, showing where they can buy the individual components of Dawn's seasonal décor locally.
Also included at the open-to-all event is a free demonstration by Milford-based Riverbank Floristry on how to create a perfect floral Christmas centrepiece.
Craig Forrest, Senior Sales Executive at Woodland Heights, said: "Always, at this time of year, we dress our show homes in readiness for the Christmas period. And you only need to look at Dawn's Instagram account to see why Peter James Homes asked her to do the honours this year at Woodland Heights.
"If visitors want to take some of our ideas and replicate them in their own home, we've not only made sure that the decorations are sourced from local and independent retailers, but we're also providing a shopping list of where they can purchase the items that Dawn has used.
"I personally have already located some of the items she has used in The Birchfield, including the Christmas tree, the wooden beads and the berries- if it's good enough for Dawn it's good enough for me!"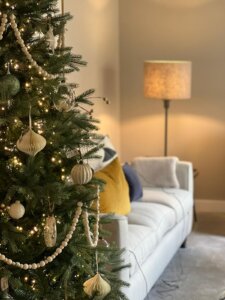 Dawn, who arranged her Christmas décor with the help of her daughter Jade, has shopped for items as locally as possible, in places such as Trowell Garden Centre, Hunters of Derby and The Bottle Kiln in West Hallam.
Dawn said: "Jade and I had some real fun shopping around on a 'high street' budget, while creating an end result that was beautifully tasteful and would not look out of place in a millionaire's mansion.
"The Birchfield show home at Woodland Heights presented us with the perfect canvas to ensure Christmas came early for everyone who visits this wonderful Peter James Homes development.
"I'd love to think that we might inspire people to bring some festive joy to some of the wonderful local and independent retailers we have across the East Midlands."
To find out more about Dawn's interior design work, visit @the_hollies_ on Instagram.
Back to news >