'View Home' at Luxury Housing Development on Historic Site Now Open
9th November 2020
Developers behind a new luxury housing development – built on a site where royals once roamed – have unveiled a new 'view home'.
East Midlands-based Peter James Homes, which has an office in Nottingham, is delighted with the take-up so far.
The view home opened on September 19th and buyers are being asked to book a scheduled appointment due to Covid19 rules.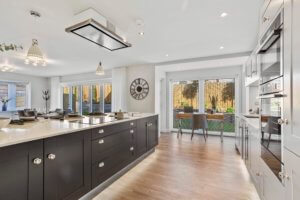 The site is nestled in the grounds of historic Gedling Manor, once owned by the Earls of Chesterfield, then the Earls of Carnavon, and where King Edward VII stayed during shooting seasons.
Consisting of 14 luxury homes, the development is scheduled for first completions in October.
These homes are bigger than the average property, with only one three-bed, and the rest consisting of four and five-bedroomed properties, situated just off the highly desirable, tree-lined Wood Lane.
The carefully crafted homes, which are brimming with design details, have generous gardens, green spaces and parking. The homes still available are between 1,695 sq.ft and 2,335 sq.ft, and are close to Carlton Le Willows Academy. The school has been ranked in the top 20% of non-selective schools nationally.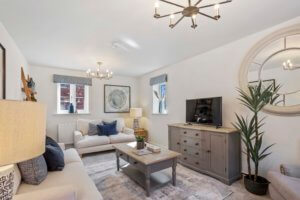 Simon Gardiner, managing director of Peter James Homes, said: "Hunters Wood is our most exclusive development yet, with thoughtful details giving each of the 14 homes that wow factor.
"We've handpicked a unique location and it feels like the houses have been nestled at the site for years. It's got a fascinating heritage, and people moving into these homes will have bought their own piece of history.
"As a gesture of goodwill, the team also installed a new half-mile footpath from the drop-off point and car park up to the Carlton Le Willows Academy, and laid fresh turf surrounding the footpath, costing £100,000.
"It is paramount that we are considerate of everyone surrounding the project and of the community that our residents will belong to in the future.''
Work started on the site last May, and the remaining properties available are priced between £475,000 and £625,000.
Back to news >