Peter James Homes puts Derbyshire village on the map to support local businesses
2nd November 2023
Peter James Homes has literally put a Derbyshire village firmly on the map after shock retail closures highlighted the importance of supporting local business near to one of our developments.
The team in charge of our stunning Woodland Heights development in Bullbridge, near Ambergate, has come up with an idea to champion local independent shops and some amazing landmarks.
We've teamed up with Bagshaws Residential to produce a comprehensive community guide complete with walking route – all with the aim of highlighting everything the area has to offer.
Simon Gardiner, managing director at Peter James Homes, said: "The constant news of store closures has rocked shoppers, proving that it is more important than ever before to shop local.
"As a responsible builder creating a community here, it is important to highlight the incredible local businesses that operate locally. The Bullbridge Guide is designed to do just that".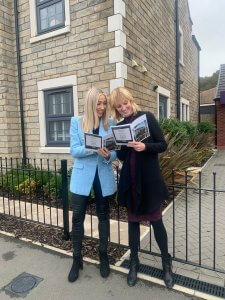 Analysis by the Centre for Retail Research (CRR) found that an average of 47 shops closed their doors permanently each day across the UK in 2022 – totalling around 17,145 store losses.
Simon said: "Bullbridge and the surrounding area has some talented business owners running local shops, restaurants, bakeries and pubs. We want to show our support to them, especially those who may have been struggling during the cost-of-living crisis.
"Bullbridge may be one of Derbyshire's best kept secrets, but we just couldn't keep that beauty to ourselves."
He added: "We've created a full guide, complete with walking map, so that visitors to the area can experience, if only for a day, the good life that Bullbridge and the surrounding area has to offer."
Inside the 12-page guide, a 15-point walking guide will take visitors on a moderate 5.2-mile walk taking in local historical sites, industrial landmarks and some amazing countryside and wildlife.
In a relatively short period of time, visitors and locals will discover the delights of the Cromford Canal, views of the Crich Stand memorial, Crich Market Place with its array of shops and pubs, and of course, the beauty of Bullbridge and the hidden gems that nestle within the location.
With the opportunity to stop off at The Canal Inn, a traditional pub known for its friendly atmosphere, roaring fires and real ale, or one of the highly regarded eateries or bakeries such as Loaf along the way, it's a great way to get to know the area and the locals.
Of course, for those that fall in love with the area, there is a chance to stay longer (or forever), with the Peter James Homes development Woodland Heights providing 12 house types across a 22-acre site.
MaryClaire Morgan, sales and customer care manager for Peter James Homes, added: "It all starts with a single step.
"Whether you are exploring the beauty of Bullbridge with our walking map, discovering a local gem, or considering buying one of the quality homes at our Woodland Heights development, all you need to do is step into the shoes of a local for the day to experience a complete picture of what living here could offer you".
Woodland Heights in Bullbridge near Crich provides a range of 2-, 3-, 4- and 5-bedroom homes.
Back to news >